Unite As One -Artisan for ICT Infrastructure Learnership Development Program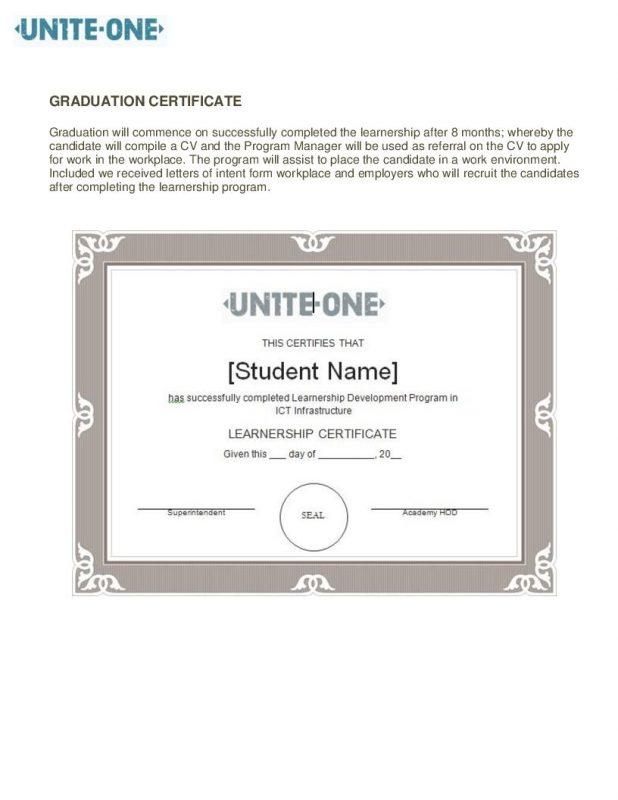 Artisan for ICT Infrastructure
Learnership Development Program
Closing Date : 14th April 2019
Invent the new workforce talent of the Future in South Africa.
Orchestrating and driving innovation.
Attract and develop talent that will fulfill the demand of workforce.
Shaping the workforce of the future.
Shifting the focus on how work is delivered and by whom and attracting and developing new talent
BE PART OF OUR FUTURE
123 Drysdale Road
Northwold, Gauteng
Phone: 0861 111 231
E-mail learnership@uniteasone.co.za
Unite as One
TRAINING PROGRAMME
The training program comprise of twelve months, ten months of the twelve will be class room training and theory, two months thereafter will be classroom practical training, two weeks will be practical training in the workplace.
GRADUATION CERTIFICATE
Graduation will commence on successfully completed the learnership after 8 months; whereby the candidate will compile a CV and the Program Manager will be used as referral on the CV to apply for work in the workplace. The program will assist to place the candidate in a work environment.
Included we received letters of intent form workplace and employers who will recruit the candidates after completing the learnership program.